Laissez-nous un message...


---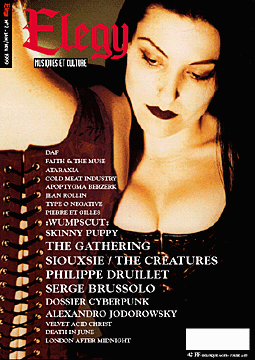 DANS TOUS LES KIOSQUES DEPUIS LE 4 JANVIER.
---

MUSIQUES

The Creatures, Skinny Puppy, The Gathering, London After Midnight,
Faith & the Muse, Cold Meat Industry, DAF,
:Wumpscut:, Death in June, Der Blutharsch.

Apoptygma Berzerk, Type O Negative, Calva Y Nada, Ataraxia,
Atlas Project, Velvet Acid Christ, And One, Prime Time Victim Show,
Eva O., Collection d'Arnell-Andrea, Covenant, Dive.


---

CULTURE

Dossier Cyberpunk, Serge Brussolo, Alexandro Jodorowsky,
Moebius, Philippe Druillet, John Bolton.

Jean Rollin, Alpha Bleue, Boutique Grouft, Expo Remix,
Sin City, Le Németh, Pierre et Gilles.


---
CD 12 TITRES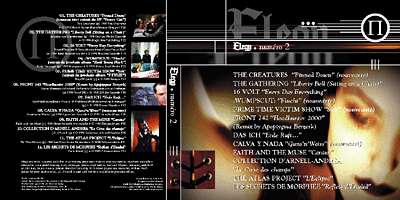 The Creatures "Pinned Down", The Gathering "Liberty Bell (Sitting on a Chair)",
16 Volt "Every Day Everything", :Wumpscut: "Flucht", Prime Time Victim Show "Sick",
Front 242 "Headhunter 2000" (Remix by Apoptygma Berzerk), Das Ich "Erde Ruft...",
Calva Y Nada "Guns'n'Weiss", Faith And The Muse "Cantus",
Collection D'Arnell-Andrea "Le Cirse des champs", The Atlas Project "L'Eclipse",
Les Secrets De Morphée "Reflets d'Enulid"



---
Contact : elegy@pratique.fr
---
Sommaire du numéro 1.
---