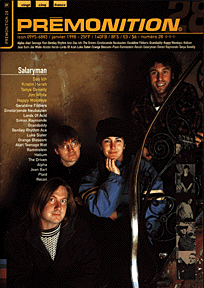 ---
Interviews, Avertissements, Ébullition et Chroniques
---



Salaryman - Das Ich - Kristin Hersh - Tanya Donelly - Jim White
---



Geraldine Fibbers - Einstürzende Neubauten - Lords Of Acid - Simon Raymonde - Grandaddy - Bentley Rhythm Ace - Luke Slater - Orange Blossom - Atari Teenage Riot - Rammstein - Helium - The Driven - Alpha - Jean Bart - Plaid - Recoil
---



Arab Strap - Propellerheads - Speedy J - Zézé Mago - Morthem Vlade Art - Headrillaz - Velma - Lunatic Calm
---



Air "Moon safari"
Alpha "Come from Heaven"
Arcanta "The eternal return"
Arte Joven "√"
Atari Teenage Riot "The future of war"
Barbara Gogan & Hector Zazou "Made on earth"
Bentley Rhythm Ace "Bentley Rhythm Ace"
Cape Fear "Drift towards the heat"
Catherine Wheel "Adam and Eve"
Coldcut "Let us play !"
Craig Armstrong "The space between us"
The Cure "Galore"
Current 93 with Thomas Ligotti "In a foreign town, in a foreign land"
The Dandy Warhols "... The Dandy Warhols come down"
Das Ich "Egodram"
David Holmes "Lets get killed"
Dead End "Unhappy birthdeath"
DJ Krush "Milight"
Echobelly "Lustra"
Einstürzende Neubauten "Ende Neu remixes"
Fluke "Risotto"
Flux "Protoplasmic"
Free Kitten "Sentimental education"
Front Line Assembly "Flavour of the weak"
Front Line Assembly "Reclamation"
Gastr Del Sol "Camofleur"
Godflesh "Love and hate in dub"
Guy Chadwick "Lazy, soft and cool"
The High Llamas "Cold and bouncy"
Heliogabale "The full mind is alone the clear"
ldfrost "Natanaël"
Inaura "One million smiles"
Index "Faith in motion"
Jim White "Wrong eyed Jesus"
Junkie XL "Saturday teenage kicks"
Kill The Thrill "Low"
Kill The Thrill / Münch "Crime ? / Space sea"
KMFDM "RNMYD"
Kristin Hersh "Strange angels"
L'Horloge Médicale "Démo"
La Boucle "5"
The Legendary Pink Dots "Chemical playschool 10"
The Legendary Pink Dots "Hallway of the Gods"
Les Thugs "Nineteen something"
The Levellers "Mouth to mouth"
Lords of Acid "Our little secret"
Mark Eitzel "Caught in a trap and I can't back out 'cause I love you too much, baby"
Mark Hollis "Mark Hollis"
Material "Seven souls"
Max Pashm "Weddings, bar-mitzvahs & funerals"
Mendelson "L'avenir est devant"
Metallica "Re-load"
Michael Head introducing The Strands "The magical world of the Strands"
Moby "I like to score"
Morgue Mechanism "The sweet apology of death"
Morthem Vlade Art "Herbo dou Diable"
Mouse on Mars "Autoditacker"
NLC "Le sanctuaire d'Is"
NON "God and Beast"
Numb "Blood meridian"
Paradise Lost "One second"
Pell Mell "Star city"
Photek "Modus operandi"
The Pixies "Death to the Pixies"
Portishead "Portishead"
Propellerheads "Decksandrumandrocknroll"
Raison d'Être "In sadness, silence and solitude"
Raksha Mancham "sBas yul"
Rammstein "Sehnsucht"
Recoil "Unsound methods"
Rex "3"
Roni Size / Reprazent "New forms"
Rozz Williams "The whore's mouth"
Salaryman "Salaryman"
Sixteen Horsepower "Low estate"
Sol Invictus "The blade" "L'orchestre noir"
Squarepusher "Big Loada" "Burningn'n'tree"
The Starseeds "Parallel life"
Strangelove "Strangelove"
Suede "Sci-fi lullabies"
Supercharger "Wall to wall moustache"
Sylvain Vanot "Égérie"
T21 "Gohohako"
Tanya Donelly "Lovesongs for underdogs"
Toenut "Two in the pinata"
Ulan Bator "Végétale"
Unit : 187 "Loaded"
Will Oldham "Joya"
XVII° Vie "Llewella"
Y Front "Patchwork of a happier place"
Compilation "Aria"
Compilation "Blue Order - A trance tribute to New Order"
Compilation "em:t1197"
Compilation "Riot zone"
Compilation "Spawn - The album"
Compilation "Underwood vol. 2"

+ Chroniques Express...


---

- Commander