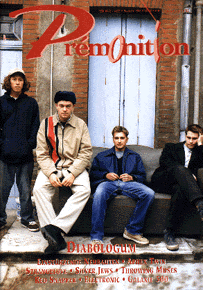 ---
Interviews, Avertissements, Ébullition et Chroniques
---



DIABOLOGUM - Einstürzende Neubauten- Aphex Twin - Strangelove - Silver Jews - Throwing Muses - Red Snapper - Electronic - Galaxie 500
---



Red House Painters - Imperial Teen - Wall of Sound - Twilight Circus - John Parish - Juniper - Peter Perrett - The Fall - Orbital - Renaissance Noire - Lisa Germano
---



Download - Fluffy - Sneaker Pimps - Les Rythmes Digitales - Faith and the Muse - Happy Melodies - Alastair Galbraith - Hoover
---



808 State "Don solaris"
Amy Arena "Amy Arena"
The Apartments "Fête foraine"
Baader Meinhoff "Baader Meinhoff"
Baby Bird "Ugly beautiful"
Baby Fox "A normal family"
Bästard "Radiant, discharged, crossed-off"
Biack "X-tra idiots"
The Black Dog "Music for adverts"
The Boo Radleys "C'mon kids"
The Buzzcocks "All set"
Cat Power "What would the community think ?"
Cathal Coughlan "Grand Necropolitan"
Collection d'Arnell Andrea "Cirses des champs"
Compilation "Germs (tribute)"
Death In June "Occidental martyr"
The Dandy Warhols "The Dandy Warhols"
dEUS "In a bar, under the sea"
Diabologum "#3"
Diamanda Galàs "Schrei X"
Download "The eyes of Stanley Pain"
Drama of the Spheres "Usual things"
Dub War "Wrong side of beautiful"
Eels "Beautiful freak"
Einstürzende Neubauten "Ende neu"
Érik Bonnet "Secret garden EP"
Faith and the Muse "Annwyn, beneath the waves"
The Fall "The light user syndrome"
Freys Aswynn "Shades of Yggdrasil"
Godflesh "Songs of love and hate"
Grande Vitesse "Grande Vitesse"
Gravity Kills "Gravity Kills"
His Name Is Alive "Stars on E.S.P."
The Kelley Deal 6000 "Go to the sugar altar"
KMFDM "Xtort"
Lacrima Necromanzia "Solam"
Laibach "Jesus Christ superstars"
Lambchop "Hank"
The Legendary Pink Dots "Remember me this way"
London After Midnight "Psycho magnet"
Mémoires d'Automne "Cliché"
Marilyn Manson "Antichrist superstar"
Marilyn Manson "Smells like children"
Mazzy Star "Among my swan"
Midnight Configuration "The kissing skull"
Mike Patton "Adult themes for voice"
Moby "Animal rights"
Mysteria Mithrae "Compilation"
Nicolette "Let no-one live rent free in your head"
Ollano "Ollano"
Ozymandias "Isolement"
Pet Shop Boys "Bilingual"
Peter Perrett In The One "Woke up sticky"
Pink Industry "New naked technology"
Prohibition "Towncrier"
R.E.M. "New adventures in hi-fi"
Red House Painters "Songs for a blue guitar"
Scorn Logghi "Barogghi"
Screaming Trees "Dust"
Silk Saw "Come freely, go safely"
Silver Jews "The natural bridge"
Sincola "Crash landing in teen heaven"
Slave Unit "Slave Unit"
Smog "The doctor came at dawn"
Some Other "Eden Weatherman"
Stony Sleep "Music for chameleons"
Suede "Coming up"
They Go Boom !! "Atlantic"
Tim Booth and Angelo Badalamenti "Booth and the bad Angel"
Tony Wakeford "Cupid and death"
Tricky "Pre-millenium tension"
Twilight Circus "Other worlds in dub"
Type O Negative "Rust october"
Vic Chesnutt "About to choke"
Void "Red"
Voodoo Child "The end of everything"
The Wake "Nine ways"
White Zombie "Supersexy swingin' sounds"

+ Chroniques Express...


---

- Commander