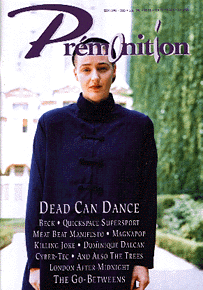 ---



DEAD CAN DANCE - Quickspace Supersport - Meat Beat Manifesto - Magnapop - Killing Joke - Dominique Dalcan - Cyber-Tec - And Also The Trees - London After Midnight - Beck- The Go-Betweens
---



Revelino - Jérôme Minière - The Mission - In The Nursery - Naked Apes - Laugh - Attrition
---



Ultra Orange - Peter Perrett - Evidence - Wumpscut - Squarepusher - Roy Montgomery - Magnetic Fields
---



And Also The Trees "Angelfish"
Attrition "Three arms and a dead cert"
Baby Bird "The happiest man alive"
Barkmarket "L. Ron"
Bästard "Bästard"
Beck "O-de-lay"
Boochon "Les femmes préfèrent prendre le bus"
Cable "Down-lift the up-trodden"
Carl Craig "DJ-Kicks"
Cobalt 60 "Elemental"
Cows "Whorn"
Cracker "The golden age"
Cubanate "Barbarossa"
The Cure "Wild mood swings"
Daily Planet "Romance"
Dead Can Dance "Spiritchaser"
Dolly Mixture "Demonstration tapes"
Double Nelson "Double nelson"
Dum Dum Boys "X-perimental zebra phonic"
Durutti Column "Fidelity"
Edward Ka-Spel "Khataclimici China Doll"
Eggman "First fruits"
Electronic "Raise the pressure"
Elevate "The architect"
Elijah's Mantle "Betrayal & ecstasies"
Frag "Semtex"
Gitbox ! "Our lady of the highway"
Gregory Webster "My wicked wicked ways"
Hog "Nothing sacred"
Holy Barbarians "Cream"
In The Nursery "Deco"
Jack Frost "Snow job"
Jeff Dahl "French cough syrup"
Jeff Mills "Mix-up vol. 2"
Jérôme Minière "Monde pour n'importe qui"
Jesus Lizard "Shot"
Jonny Polonsky "Hi my name is Jonny"
Leaether Strip "Legacy of hate & lust"
Long Fin Killie "Valentino"
Love & Rockets "Sweet F.A."
Lucid Dreams "Lucid dreams"
Magnapop "Rubbing doesn't help"
Marshmallows "The for carnation"
Meat Beat Manifesto "Subliminal sandwich"
Mecca Normal "The eagle & the poodle"
Minema "Minema"
Mission "Blue"
Mo' DJ's "#2"
Motorpsycho "Blissard"
MZ. 412 "Burning the temple of god"
Nearly God "Nearly God"
Neurosis "Through silver in blood"
Orbital "In sides"
Out Of My Hair "Drop the roof"
Palace Music "Arise therefore"
Penitent "Melancholia"
Penniless People of Bulgaria "Velocity"
Peter Hammill "X my heart"
Placebo "Placebo"
Planète Zen "-Terr..."
Psyched Up Janis "Swell"
Psychic TV "Trip reset"
Robert Forster "Warm nights"
Rosa Crux "Proficere"
Ruby "Salt Peter remixed"
Run On "Start packing"
Sammy "Tales of great neck glory"
Sister Iodine "Pause"
Sleeper "The it girl"
Sound "Shock of daylight" "Heads and hearts"
Spina "North"
Stangelove "Love & other demons"
Steve Wynn "Melting in the dark"
Strength Through Joy "Salute to light"
Super Furry Animals "Fuzzy logic"
Throwing Muses "Limbo"
Transglobal Underground "Psychic karaoke"
Ulan Bator "2"
Underworld "Second toughest in the infants"
Vic Godard and the Subway Sect "What's the matter boy ?"
:Wumpscut: "The mesner tracks"
XVIIème Vie "La prana"
Compilations "Faces Z"
Les belles promesses Collection "Acoustique" Collection "Électrique"
Compilation "WipEout"

+ Chroniques Express...


---

- Commander