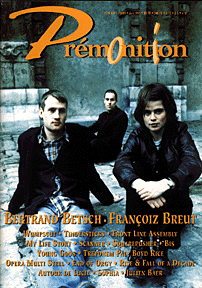 ---
Interviews, Avertissements, Ébullition et Chroniques
---



Françoiz Breut - Bertrand Betsch- Tindersticks - Wumpscut - Front Line Assembly
---



My Life Story- Scanner - Squarepusher - Evidence - Treponem Pal - End of Orgy - Rise & Fall of a Decade - Julien Baer - Opera Multi Steel - Young Gods- Charles de Goal - Autour de Lucie - Dub Narcotic Soundsystem - Sophia - Boyd Rice - Bis - Les Valentins
---



Dreamside - Bill Derren - Fruit - Panasonic - Dead Souls Rising - Benestrophe - Asian Dub Foundation - Piano Magic
---



13 Candles "Angels of mourning silence"
18 Wheeler "Year zero"
Abdomens "Stupid ass"
Artsonic "Sonic area"
Athamay "The pleasure of sin"
Bad Religion "Tested"
Bertrand Betsch "La soupe à la grimace"
Black Atmosphere "Enrapture"
Can "Sacrilege"
Chemical Brothers "Dig your own hole"
Collapse "One back and no return EP"
Curtain "When the rain starts to fall"
Cyan-Hide "Early projects Part 1"
Dead Souls Rising "Scented garden"
Deathline Int'l "Arashi syndrom"
Depeche Mode "Ultra"
Deutsch Nepal "Comprendido ! ...time stop !"
Die Krupps "Paradise Now"
Dinosaur Jr "Hand it over"
Echo & the Bunnymen "Evergreen"
Eleventh Dream "Day Eighth"
End of Orgy "Caramel amer"
Faith No More "Album of the year"
Fear Factory "Remanufacture (cloning technology)"
Fireside "Do not tailgate"
The Folk Implosion "Dare to be surprised"
Françoiz Breut "Françoiz Breut"
The Frank & Walters "Grand parade"
Garageland" Last exit to Garageland"
Handsome "Handsome"
Jean Bart "Affaire classée"
John Lydon "Psycho's path"
Julien Baer "Julien Baer"
Kepone "Kepone"
Killing Joke "Alchemy, the remixes"
La Buena Vida "Soidemersol"
Land of Passion "The arrival"
Laurent Garnier "30"
Les Valentins "Ego ego"
Lida Husik Fly "stereophonic"
Louise Attaque "Louise Attaque"
Miossec "Baiser"
The Misfits "American psycho"
Monaco" Music for pleasure"
Natacha Atlas "Halim"
Nick Cave & the Bad Seeds "The boatman's call"
Nina Miranda & Smoke "City Flying away"
NLC" Le sang de la Licorne"
OP8 featuring Lisa Germano "Slush"
Opera Multi Steel "Histoires de France"
Optical 8 "Bug"
Ordo Equilibrio "The triumph of light... and thy thirteen shadows of love"
Palace Music "Lost blues and other songs"
Prime Time Victim Show "Prime Time Victim Show"
Project Pitchfork "Chakra : red"
Radiohead "OK computer"
Rammstein "Herzeleid"
Red Sleeping Beauty "Soundtrack"
Salad "Ice cream"
Scanner "Delivery"
The Sea and Cake "The fawn"
Sensorium "Jahazralah"
Slim 0097"
Smog "Red apple falls"
Space "Spiders"
Spina "Le meilleur des mondes"
Steve Westfield "Slow Band Underwhelmed"
Stone 588 "Door in the dragon's throat"
Supergrass "In it for the money"
The Tindersticks "Curtains"
The Tors of Dartmoor "Third second"
Treponem Pal "Higher"
Wumpscut "Embryodead"
XVII Vie "Past isn't dead (1988-1994)"
Compilation "Rock en France"

+ Chroniques Express...


---

- Commander