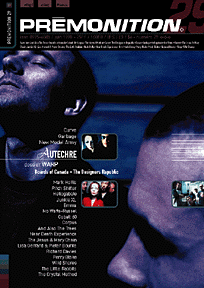 ---
Interviews, Avertissements, Ébullition et Chroniques
---



Autechre - Dossier WARP - Garbage - Curve - New Model Army
---



Mark Hollis - Pitch Shifter - Junkie XL - Corpus - Near Death Experience - Lisa Gerrard / Pieter Bourke - Emma - Richard Davies - Perry Blake - Wild Shores - Little Rabbits - Crystal Method - Heliogabale - And Also The Trees - The Jesus & Mary Chain - Cobalt 60 - Ivo Watts-Russell
---



Ian Brown - Tortoise - Yann Tiersen - The Nits
---



Ashtray Hearts - Eric M - Dream City Film Club - Buffalo Daughter - Tosca - Nikko - Ozark Henry - Thievery Corporation
---



Add N To X "On the wires of our nerves"
And Also the Trees "Silver soul"
Arab Strap "Philophobia"
As One "Planetary folklore"
Autechre "Lp5"
Badmarsh & Shri "Dancing drums"
Big Electric "Cat Eyelash"
Boards of Canada "Music has the right to children"
Breath of Life "Sweet party"
Brighter Death Now "Pain in progress"
Buffalo Daugther "New rock"
Buhler / Barnett / Studer "Earth bound"
Carmine "Départs"
The Cherry Orchard "The start of our affair"
Chokebore "Black black"
Cobalt 60 "Twelve"
Comelade, Bastien, Berrocal, Liebzeit "The oblique sessions"
Cornelius "Fantasma"
The Crystal Method "Vegas"
Curve "Come clean"
Dawn Fades "Nine thorns"
Delaney "Delaney"
Die Form "Duality"
The Dirty Three "Ocean songs"
DJ Morpheus "If U can beat 'em, break 'em !"
Dreadful Shadows "Beyond the maze"
Dumb Type "S/N"
Emma "Trade winds in a loft"
Frank Black and the Catholics "Frank Black and the Catholics"
Fun-Da-Mental "Erotic terrorism"
FX Randomiz "Goflex"
Garbage "Version 2.0"
Goldie "Saturnz return"
Jeff Buckley "Sketches for my sweetheart the drunk"
Jesus and Mary Chain "Munki"
Kid Loco "A grand love story"
Kirlian Camera "The desert inside"
Laurent Garnier "Early works"
Lisa Gerrard & Pieter Bourke "Duality"
Little Rabbits "Yeah !"
London After Midnight "Oddities"
Love Like Blood "The Love Like Blood E.P."
Massive Attack "Mezzanine"
Melville "Est-ce que l'amour restera ?"
Mimetic Field "Overrated"
Money Mark "Push the button"
Moonspell "Sin / Pecado"
Morcheeba "Big calm"
Muller / O'Rourke "Weighting"
Naxos "L'horizon tuméfié"
Near Death Experience "V4.1"
New Model Army "Strange brotherhood"
The Nits "Alankomaat"
Norma Loy "Open your mind"
Novamute Kompilation Compilation"
Panorama Compilation"
Peace, Love & Pitbulls "3""
Perry Blake "Perry Blake"
Pitch Shifter "www.pitchshifter.com"
Puissance "Back to control"
Pulp "This is hardcore"
Req "Frequency jams"
Reservoir "Pink machine"
Richard Davies "Telegraph"
Saint Etienne "Good humor"
Second Skin "Choir invisible"
Solex "Solex vs The Hitmeister"
Sonic Youth "A thousand leaves"
Stabbing Westward "Darkest days"
Su "Ohms"
Suns of Arqa "A brief history of S.O.A."
Sven VŠth "Fusion"
Therapy? "Semi-detached"
Thievery Corporation "Sounds from the thievery hi-fi"
Tortoise "TNT"
Tricky "Angels with dirty faces"
Two "Voyeurs"
Ulf Langheinrich "Degrees of amnesia"
Velvet Acid Christ "Calling ov the dead"
Wild Shores "Homo habilis"
X Ray Pop "Baby speedock freak's army"
Yann Tiersen "Le phare"

+ Chroniques Express...


---

- Commander